CARLYLE SEMI-HERMETIC 06D/E TEAR DOWN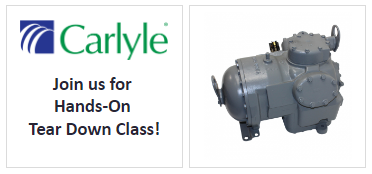 TRAINING SESSION DESCRIPTION:
Carlyle semi-hermetic compressors have been around for decades. If they are installed and maintained properly, they will run forever. When they do fail, it's usually a problem out in the system that caused the failure in the compressor. During this interactive training, we will first get you familiar with how the compressor works, then help you identify failure modes.
The session starts with the compressor "Construction and Familiarization". Then continues with the "Causes of Mechanical Compressor Failure" and is completed with the Physical Teardown of failed compressors.
NATE Official Recognized Class
Carlyle Certificates will be handed out for completing the class
Tool Requirement
Participants in the training will need to bring their own tools to participate in the tear down, as follows:
Allen wrenches
Ball Peen hammer
Small chisel
Flashlight
Socket sets
Ohmmeter
Optional: Impact wrench
*Sockets sizes for 06D & 06E Compressors
Head Bolts 9/16" 3/4"
Bearing Head 9/16" 5/8"
Valve Backers 7/16" 7/16" + 3/8"
Suction Port 1/2" or 3/4" 3/4" or 5/16"
Rotor Bolt 15/16" 15/16"
Bottom Cover 9/16" 9/16"
| Class | Price | Capacity | Time | Location Address |
| --- | --- | --- | --- | --- |
| SAC 2/7 | $75/pp | 25 | 8AM-12PM | 8671 Younger Creek, Sacramento, CA 95828 |
| RVS 2/8 | $75/pp | 25 | 8AM-12PM | 14751 Meridian Parkway, Riverside, CA 92518 |
| BRE 2/9 | $75/pp | 25 | 8AM-12PM | 205 S Puente St, Brea, CA 92821 |
| SDG 2/10 | $75/pp | 25 | 8AM-12PM | 1900 Weld Blvd. El Cajon, CA 92020 |
| BOI 2/21 | $95/pp | 25 | 8AM-12PM | 300 N Mark Stall Pl, Boise, ID 83704 |
| DCP 2/22 | $75/pp | 25 | 8AM-12PM | 9702 W. Tonto, Tolleson, AZ 85353 |
| SAJ 3/8 | $75/pp | 25 | 9AM-1:30PM W/30M LUNCH BREAK | 2390 Zanker Rd, San Jose, CA 95131 |
| FRS 3/30 | $75/pp | 25 | 4PM-8PM | 3636 South East Ave, Fresno, CA 93725 |